Worshipping Together is Proclaiming Peace
Anne Garber Kompaoré in Burkina Faso
December 4, 2010
"Christmas was aproaching, and both sides of the battlefield were exhausted and tired of fighting. As the darkness of night loomed overhead and men hunkered beneath their protective mounds, a faint melody broke the silence of the night:
'Stille Nacht, Heilige Nacht...'
"A German soldier had begun to quietly sing a melody that reminded all those who heard it of another world far away from the hell of the war that they faced." Then far accross the field another voice joined in but this time in English:
'Silent night, Holy Night. All is calm...'
It was the voice of his enemy! "Before long, another soldier joined the tune, and then another, until a chorus of commandos' voices filled the air on that night no longer divided by ideals, combat, and orders but united in the heavenly peace. That Christmas morning, on the World War One battlefield, "German soldiers and British soldiers met in the middle of battlefield for a spontaneous armistice agreed upon not after intense hours of negotiation brought on by terms from diplomats, but after a song of worship about the Prince of Peace sung from the hearts of those who were searching for what only His presence can provide".*
When we are engaged in truly worshipping our Lord and Saviour, those differences that we have with our neighbour, our fellow worker, our pewmate, our spouse, our family just fall away. As we look to Him, he brings us together. It is loving and praising God that He gives us the power to love and forgive others. And God does the same for those who worship with us uniting us in one mind in our worship to God.
In this Christmas season, we hear praises to God everywhere as we celebrate Jesus' coming to earth, and recall the angels' proclamation:
Glory to God in the highest heaven!
And on earth - peace!
To those of his goodwill. (Luke 2:14)
Let these songs and carols be sung in unison and in harmony in true worship to God and bring us together, causing us even to forget why we were fighting in the first place. Sing and worship together with your spouse, you children, your friends and neighbours, with your brothers and sisters in Christ, and yes - even with your enemy, your relentless opponent, your thorn in the flesh, and God will bring peace to us.
Back and forth to Orodara and Kotoura!
Since August I have been to Orodara five times and Kotoura 4 times! It is good to reconnect with the Mennonite church brothers and sisters there, and helping out the Siamou translation project with both translation checking and linguistic consulting as we sort out a few details for the orthography in that language. My last visit involved mediating in a marital conflict of one of my spiritual sons. We pray that he and his wife can continue to sing and pray together as we did around the campfire the evening before I left. We praise God for words of regret and forgiveness, and look ahead with the assurance that God is indeed working in their lives, providing healing and hope.
Pray for Peace in Ivory Coast
Ivory Coast (Côte d'Ivoire), our neighbours to the south have as of yesterday (Dec.3), two declared presidents! Pray that God's peace will fall on the people there, giving the leaders wisdom to sort out this highly volatile situation. When a tooth hurts, the whole body is immobilized.
Coming to Canada
Just to let you know that I am leaving for Canada on Dec.9, and returning to Burkina on Feb. 17 with the Mennnonite Church Canada Learning Tour to Burkina Faso. First stop upon arrival in Canada is the church headquarters in Winnipeg, then to my brother Phil's in Canmore Alberta for Christmas, and finally to my parents' to Listowel Ontario for the New Year. My time is short, so I will not be able to travel extensively, but if you have hopes that I can visit your church please contact the Partnership Engagement Coordinator, Norm Dyck, whose Email address is ndyck at mennonitechurch.ca
My parents are graciously lending me their cell phone for the duration. The number is: 519-492-2049. I am also available through SKYPE - annegk1, when I am online.
Love and SHALOM for one and all during your Christmas holidays and throughout the year!
Anne Garber Kompaoré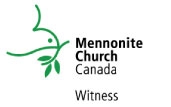 We welcome your contributions for our support and invite you to send these to:
Mennonite Church Canada Witness
600 Shaftesbury Blvd Winnipeg, MB Canada R3P 0M4
Toll-free 1-866-888-6785
http://www.mennonitechurch.ca/