Providing For Our Needs
DAK Ministry Update, November 30, 2015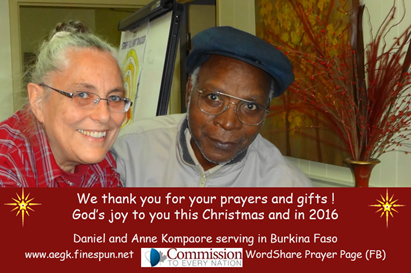 Dear Friends,
These last six months have been full with both joys and concerns:
We thank God for protection and a peaceful resolution to the aborted coup attempt in Burkina Faso on September 16-17. It could have been much worse. The transitional government was re-installed, and elections took place on November 29, 2015. A new president, Roch Marc Christian Kabore, has just been elected.
Pray for the urgent needs of ANTBA*. ANTBA has had to lay off all of its permanent employees and rehire them on a contract basis because of severe financial crisis. Of the twenty literacy and Bible translation projects in progress, four have received no (0) funding for this coming fiscal year (Oct-Sept), and only 5 have received full or near full funding. There is a shortfall of over $300,000 for the year. If you would like to help, know that for the next three months (Dec-Feb) we plan to contribute to ANTBA 10% of all general donations that we receive through CTEN. We will also pass on any special donations that are earmarked for ANTBA. All you have to do is to send us a gift through CTEN. See below for more info.
We were thankful to spend a few weeks with my (Anne's) parents. Dad is adjusting to his new quarters at a care facility, and Mom is adjusting to living alone at home. We pray for God's peace for the both of them through this difficult time.
At the Bible Translation conference in Dallas and the Translators Notes workshop, Daniel enjoyed connecting with old friends and listening to papers. We both enjoyed the paper on how the Muslim's 'hundred names of Allah' can be used to introduce Scripture about God. About 60 people came to listen to my paper (on Hebrew semantics resources). It was exhilarating to connect with so many like-minded people during lunch and supper meetings.
I am thankful to be able to serve ANTBA in a more personal way. In September, I was assigned my own office at ANTBA, where I checked Joel, Nahum, and Lamentations for the Kasem translation team. I also began connecting with ANTBA translators, listening to their joys and concerns, providing encouragement and counsel where needed.
The Sicite New Testament translation is almost finished! The team is in the process of making final corrections. We hope to see it in publication sometime in 2016! Praise God! Sicite is the language that I worked on between 1982-2000 — doing linguistic analysis, establishing the orthography, and beginning the translation and literacy work, before it was turned over to Sicite speakers: Dauda, Zanga, Karim, Musa Traore, and others. Pray for the completion of this long awaited New Testament.
More info on ANTBA translation projects:
We will be giving you an update on how much is donated through CTEN, and how your donations are used. Our focus will be on Old Testament projects of which there are four at ANTBA: Kasem, Nuni, Sissala, and Lobiri. Each one still needs an average of $15,000-20,000 each for this fiscal year. These moneys provide for the salaries of the translators, their computers, travel, training, and administrative expenses. I can give you more specific information of any of these language projects if desired.
We will also let you know when ANTBA's needs have been met. Wouldn't that be wonderful if in the next newsletter, I can give you miraculous news of God's provision?! If you do not have the means yourself, do pray for this crucial ministry of getting the scriptures into the hands of peoples who live in a time of uncertainty. Please write if you have any questions. Note to those who may want to give a large donation earmarked for ANTBA: Do contact me first and let us know it is coming.
Thank-you so much for thinking of us and praying for us in Burkina!
Anne and Daniel Kompaoré
*ANTBA is the National Bible Translation and Literacy Organization of Burkina Faso. Daniel was the founding director from 1992-98.
P.S. The WordShare Prayer Page is a closed Facebook page where we share current private news and prayer requests as they happen. If you are already on Facebook, just look up this page and click on the button to ask to be invited. I post about once a week, depending on what is happening.

WordShare Services
Sharing God's Word through teaching, pastoring, and Bible translation
Commission to Every Nation and Mennonite Mission Network
Email:
agkompaore@gmail.com
,
danielkompaore@cten.org
; Skype: annegk1

All Canadian AND American donations are now tax-deductible.
For Financial information and status please see CurrentFinancialStatus.pdf or contact Anne.