Celebration, Consecration, and Concentration
DAK Ministry Update May 26, 2013
Dear Friends,
The title about sums up my (Anne's) events and activities in the last two months.
checking the last OT scripture selections in Siamou with Paul Thiessen and Soleymane Traore in Orodara, and celebrating Dauda Traoré's ordination at the Kotoura Mennonite Church (April 7-15)
teaching Biblical Geography at the Apostolic Mission Bible School in Gonse in March, and then participating in the graduation ceremony on April 19.
working on resources for translators and preparing for the Biblical Law workshop in Jos, Nigeria in May.
And now I am in Jos, helping to teach at the Biblical Law workshop, and checking scripture with the Ngas translation team. Things are going well. We are thankful that the violence has dissipated in Jos, but northern Nigeria is in a state of emergency in their fight against Muslim extremists. A number of people are died and some have fled to neighboring countries. So please do keep them all in your prayers. I will be returning to Burkina on June 2.
Daniel, too, had been teaching at the Gonse Bible school, continuing to refine his Moore language hymnal, and wrapping up his last months as president of the Apostolic Mission denomination.
We'll let a few pictures tell the stories!
Ordination of Dauda Traoré at the Kotoura Mennonite Church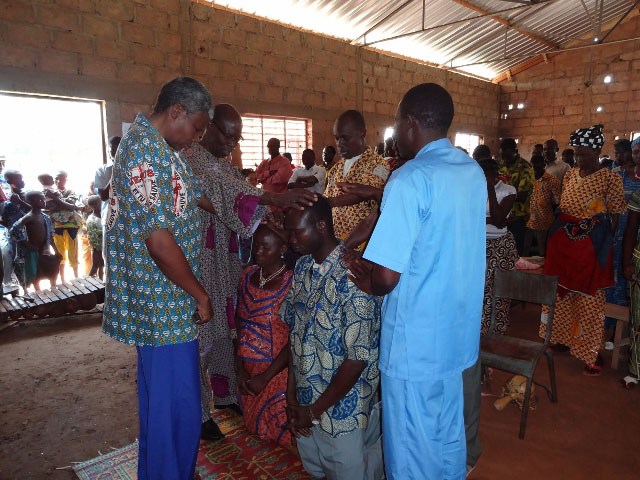 Laying hands on the pastoral couple
| | | |
| --- | --- | --- |
| | | |
| Pastor Dauda baptizing | Old Kotoura church | New Kotoura Church |
The old church was built of mud bricks, the new one of cement bricks. Thanks to those who contributed greatly to its construction! Dauda and his wife Fatimata are posing in front of the new church. Pray for Dauda and Fatimata as they begin this new phase of their ministry. Dauda continues to work on the New Testament Translation into Sicite.
Graduation at the Apostolic Mission School at Gonse
| | |
| --- | --- |
| | |
| Diploma time at Gonse! | Paying respects to the president |
In the Mossi culture when a younger person greets an elder, he flexes his knees, much like the people greeting Daniel in the photo above.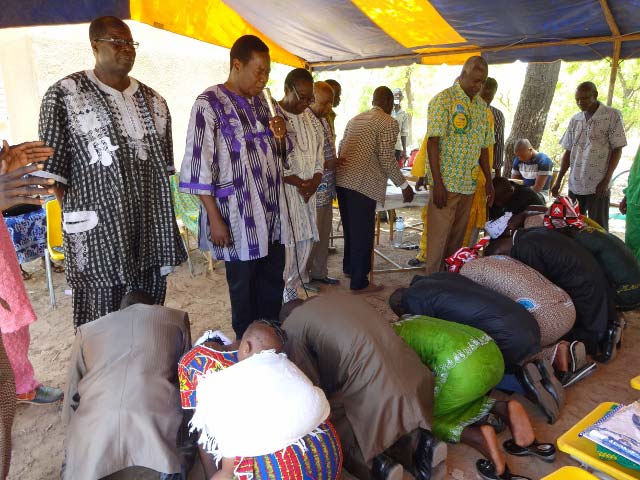 Apostolic Mission pastors praying for the new graduates as they send them off to their new assignments.
Thank you for your prayers and financial support!
God's special blessings to each one of you,
Anne and Daniel Kompaoré

WordShare Services
Sharing God's Word through teaching, pastoring, and Bible translation
Commission to Every Nation and Mennonite Mission Network
Email:
agkompaore@gmail.com
,
danielkompaore@cten.org
; Skype: annegk1

All Canadian AND American donations are now tax-deductible.
For Financial information and status please see CurrentFinancialStatus.pdf or contact Anne.