Celebrating 30 years in Burkina!
DAK Ministry Update May 2, 2012
Dear Friends,
30 years already?!
April 30, 2012 marked 30 years of ministry in Burkina Faso. So many memories. So much to thank God for the priviledge of serving Him here! And a few of you have been following me right from the beginning! A special thank you to you, but also to those of you who have come alongside me along the way with your support and prayers!
Daniel and I will be coming your way in August! Daniel will be staying til mid Sept. I will be staying until the end of November. We will be based in Listowel, Ontario. I personally plan to travel in north eastern U.S. in the month of November. If you would like us to share our memories, our current situation, and our future dreams, we would be happy to come and visit you. We are especially looking for individuals and churches who would like to consider supporting us on a regular basis both through prayers and finances. Please feel free to write to ask any questions or inquire about possible dates for visiting.
Jos!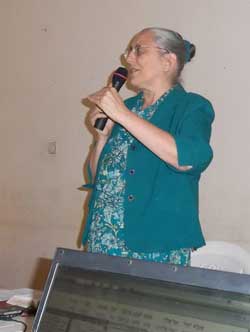 Photo by Mark Zira
I returned from Jos, Nigeria learning to live with the threat of attack but each day experiencing the joy in serving God in an area that thirsts for true peace. Indeed the first Sunday after my arrival there was another attempt to bomb a church. As with an earlier episode, the attackers were not able to reach the church itself, so the incidents were less tragic than they could have been. But it meant that very strict security measures were set up in front of all Jos churches for the duration of my stay, cars and bags being thoroughly checked and each person going through a metal detector as he/she entered church. It was a little disconcerting to see a couple of fully armed men protecting us while we worshipped.
All this in sharp contrast to the very full month of teaching and checking at the Psalms translation workshop! Much fuller than anticipated, with the main lecturer cancelling out the last minute as well as a senior consultant, the rest of us had to make do. On Monday afternoon, I accepted to teach for the opening session the following morning, and then several days later another teacher called in sick, so I was up another late night to cover for him the next day. Fortunately the absent lecturer sent us her powerpoint presentations.
Then at the end of the first week, because of the lack of consultants, I accepted to check the work of a second translation team. Normally there is supposed to be one team for each consultant. It was exciting to work with both teams. The Ngas team had two university level professors both of whom teach Hebrew and have studied in Israel! And the Lokaa team had two women. Almost all of the translators had university level training from B.A. to PhD. It was a pleasure to work with both men and women translators for the first time, and with such high calibre!
| | |
| --- | --- |
| | |
| Ngas translation team (Photo by Katherine Barnwell) | Lokaa translation team (Photo by Mark Zira) |
Back Home Again!
For some reason, as I stepped off the plane in Ouaga, I welcomed the hot air, and Daniel was glad to have me back, so glad it seems, that he had thought I was coming back on the previous day! It was wonderful to take a little more leisurely pace for a few weeks, especially working on the revision of The Grapevine Story of the Bible, a series of powerpoint presentations for Bible translators on the grapevine and its products, and preparing for my next activities, such as speaking on Health and the Bible with pastors' wives on May 1, and travelling to Orodara and then to Ivory Coast, May 7-23. In Orodara I will be working with the Siamou translation team, leading a workshop with reviewers, and in northern Ivory Coast I will be checking part of the book of the Psalms with the Nyarafolo translation team. Nyarafolo is a Senufo language.
Glimpses of a few of Daniel's recent activities
| | |
| --- | --- |
| | Each year a delegation of the Apostolic Mission Church brings New Years greetings to their traditional king. This year the king responded with a gift of his book of poems in the Moore language. |
Replacing the old pump at the Apostolic Mission Church.
Two bore hole pumps on the grounds of the church and the church school in Ouaga had not been functioning for years. Replacing them brought clean water to all including the surrounding community.
| | |
| --- | --- |
| | On April 28, 2012, Daniel and many others travelled to Boura to celebrate 50 years of ministry of Pastor Hamado Sakande (pictured with his wife Bernadette) of the Apostolic Mission denomination. Under his leadership, 26 churches were planted and are growing. |
Not pictured : Also in the month of April, Daniel visited 6 different rural churches in Boulkiemde, the central north of Burkina, bringing encouragement to their leaders and help to the small growing congregations.
Continue to pray for peace in West Africa
As I write, Nigeria continues to experience violent attacks. Mali is still divided with the rebels in the north holding two-thirds of the country, and the capital has been living through a counter coup attempt in the earlier this week. Guinea Bissau also underwent a recent coup. Burkina Faso leadership has been very much involved through peace negociations, receiving refugees coming across the border from Mali, and brokering the liberation of a Swiss hostage last week. Pray for West African leaders and all those behind the scenes who seek to bring peace to our troubled region.
God's richest blessings of peace and joy to each one of you. And thank you again for your interest, your support, and your prayers!
Anne and Daniel Kompaoré

WordShare Services
Commission to Every Nation and Mennonite Mission Network
Email:
agkompaore@gmail.com
,
danielkompaore@cten.org
; Skype: annegk1

All Canadian AND American donations are now tax-deductible.
For Financial information and status please see CurrentFinancialStatus.pdf or contact Anne.