November 27, 2007
United we stand
... so that they may be brought to complete unity. Then the world will know that you sent me and have loved them even as you have loved me. John 17:23.
Let me tell you the story of two little girls who have grown up into beautiful and bold young women. Rachel and Lois were both born around 1986 to Cheba Traore, in the year after he was baptized. Their mothers were co-wives in a polygamous marriage. Their father, Cheba was the first Christian in Kotoura. Excited about his new faith, he never hesitated to share God's good news to others. When they were only eight years old, their father died leaving them and their six brothers and sisters without a daddy. Their uncle Musa (Moses) was put in charge of the entire family, though he was only 25 years old. Their growing up years were difficult as their uncle did his best to manage the large family on the farm. They did go to school but both of them dropped out quite young. Rachel did not complete primary school, and Lois failed her first year of high school. So they worked in the fields.
As they were growing into teenagers, their cousin Dauda (David) came back from his two year translation training program in Bangui, Central African Republic. He immediately started bringing together the young people of the church for various activities, including evangelism outings in neighbouring villages. Lois and Rachel were part of that group, and grew spiritually during that time.
In the meantime, Uncle Musa suggested to me the idea of sending Lois and Rachel to a Bible School for girls in Mali, where they could learn and study in the Bambara language, which they knew as a second language. I had committed myself to providing the schooling of Cheba's children after his death. So I accepted to cover their expenses for their 4 year training.
When they completed their training in last April, I was happy to hear that they were immediately taking charge of the Sunday school for the children attending church in Kotoura. But what I heard last week was way beyond my wildest hopes for these two young women.
When they came back from their training, they heard about the village of Sunturu where their Uncle Musa had been visiting a handful of Christians a couple of years earlier, but had stopped visiting them, and the small group had disbanded. Lois and Rachel decided to go and visit Sunturu. With the blessing of the Kotoura church they walked to Sunturu about 20 kms away, on a weekend in October, gathered together the disbanded group and began teaching and preaching to them and others who gathered to listen. At the end of their three nights in the village, there were 22 new believers! Since then the two women have taken turns with the young men going to Sunturu every Saturday night, and spending Sunday with the group. I was able to see them briefly two Sundays ago when I was in Kotoura (photo to come shortly), and learn about this wonderful development. As of Nov. 19, there were now 44 believers meeting together in Sunturu. Praise God!
Of course this development brings back memories about how two young single women from North America arrived in Kotoura exactly 25 years ago (November 25, 1982), daring to think that with God's help they could make a difference in this village. In reflection, Pastor Abdias Coulibaly (from the Orodara church) shared with me - "When Cheba died, I simply could not understand how God could let that happen. Now I am beginning to understand. He is multiplying the Cheba's." Rachel and Lois's older brother Amidou has now just been accepted into the brand new Mennonite pastoral training program here in Burkina. In all of my 25 years in Burkina, I have never heard of single young African women sharing the good news of Jesus Christ in this way. It is such a blessing for me to see our first fruit (Cheba) bearing fruit, and now that fruit also bearing even more fruit! I guess that would make Gail Wiebe Toevs (my former partner) and I spiritual great-grandmas!
This story re-inforces the message I gave recently to a few churches in Ontario, right at the same moment that Rachel and Lois were ministering to the people in Sunturu. For a successful ministry, we need to be :
1. connected to God
2. let God's love flow through us to others and
3. let God's Spirit bind us together in unity,
When I see Christians living this out, when church conflict is done away with, when spreading the good news is not a one-man effort but rather the effort of an entire community, of various individuals working together, then we can see how God can work through us! We sense that the Mennonite church in Burkina is about ready to explode in growth. There are promising indications on several fronts. Please do join us in prayer that we all in Burkina be united in God's Spirit as God's love flows through us touching and transforming many lives.
Yes, some of you may be surprised to learn that I was in Canada in the month of October. Sorry for not having put the word out that I was coming. But this time, my visit was but a short six weeks. I hope that in three years time, I can arrange for a 3 month visit, and see more of you.
This year has been full of seeing God's grace through the healing of my brother-in-law Benoit after his violent encounter with the military, and my close call with death in the Kenya Airways crash in May. Flowing out of Benoit's healing, one son has committed his life to Christ and changed his lifestyle, and another has begun studies at a Bible school this fall.
My work at the Bible Society continues also to be most satisfying. I do have one rather urgent prayer request, and that is to pray for me as I lead a recruitment workshop next week (Dec. 3-7). The Gulmancema Bible was published in 2005, but without the Catholic deutero canonical scriptures. We will be working with the Catholics in the next couple of years in order to make the Bible complete for them. This is a pretty sharp learning curve for me, as I prepare to teach a group of priests and catechists how to translate the deutero canonical scripture into their language. In the new year, I will be conducting another recruitment workshop for the Lyele Old Testament translation. Bible Society will be taking over the work, now that Wycliffe (SIL) has completed the New Testament.
As I close this off, I realize that Christmas is approaching. You people are reminded of that everyday. Here we don't think about it until the time arrives! Nonetheless, I wish to bring you Christmas greetings.
May God give you the joy and celebration for the the coming into this world of His most special son. Don't complain about the commercialism, but simply rejoice in Him and spread you joy to others.
Many blessings,
Anne Garber Kompaore
P.S. The news hot off the press: Old Maadou, the guy known for his drinking bouts in earlier years as well as his opposition towards Christians in Kotoura, has just made a commitment for Christ. Praise God! And pray that the Christians there may accompany him on his new road. Other recent conversions: the kora player (an African guitar) and his wife. He previous played for the hunter's society. Now he is already playing his instrument and singing Christian songs at church.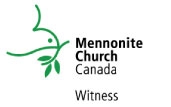 We welcome your contributions for our support and invite you to send these to:
Mennonite Church Canada Witness
600 Shaftesbury Blvd Winnipeg, MB Canada R3P 0M4
Toll-free 1-866-888-6785
http://www.mennonitechurch.ca/